Geraldine Simonnet launched AMARILDINE in 1993, along with Marie Laure Betz.
The success came right away and AMARILDINE's creations spread throughout France and abroad.
Surrounded by quality dressmakers, AMARILDINE creates very high-end style dresses with sober lines and perfect cuts that entice a great loyal clientele.
Throughout the years, AMARILDINE formed a great variety of unique partnerships such as the ones with Pronuptia, with Ford for their advertising campaign, with the Bon marché three years in a row, or with Kleinfield in New York to celebrate the House's fifteenth anniversary through a wonderful exhibition in 2008.
In 2012, Geraldine fulfils one of her dreams when managing to make the AMARILDINE style more affordable. After 20 years spending focusing on high-end creations, she finally created a ready-to-wear collection for the brand "Rembo Styling". With the brides loving it and requesting even more, the collaboration went on and the AMARILDINE line for Rembo Styling was eventually born.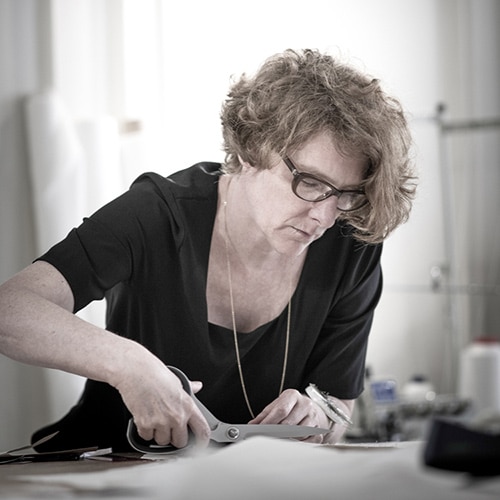 Having both of my parents working in art as sculptors, I first got a degree in Arts at the Sorbonne College in Paris, while taking design and modelling classes from a former ESMOD teacher.
I first focused on creating outfits for contemporary dancers or theatre players and had several experiences in the ready-to-wear industry. But at the age of 26, I decided to dedicate myself to the craft of bridal dresses. Today, it is a real pleasure for me to guide you in such a wonderful journey, walking you through my creations and advising you on your project.
I have always taken inspiration from the current fashions so that my dresses really match current trends. I have also always designed my dresses "from the inside", making sure to take into consideration the new fabrics and techniques that exist which may enable us to improve both the comfort and smoothness of the dresses. Because I am convinced that tradition shouldn't be paired with constraint. You need to feel free and above all remain yourself to enjoy the most this wonderful and so personal event.
My dresses are minimalistic, colorful, unstructured and graphically designed.


1 rue de Liège, 75009 Paris


1 rue de Liège, 75009 Paris